Gyöngyös
Introduction:
There was an enthusiastic small team with a few people in Gyöngyös in 1995 who founded the local circle. Since then, many have come, some have left, and everyone has added something to the team from their personality to run the circle in love and peace. Our members live in the following towns and villages below: Gyöngyös, Gyöngyöshalász, Gyöngyössolymos, Domoszló, Abasár, Pálosvörösmart and Mátrafüred. 
On Wednesdays we give massages, and from 6 pm we regularly hold sharings, discussions and lectures for smaller or wider audiences in connection with preserving and regaining our physical and mental health. Apart from Wednesdays, we are active members of the so-called Natura Day organized in town, and we also visit Health Days in the surrounding towns and villages.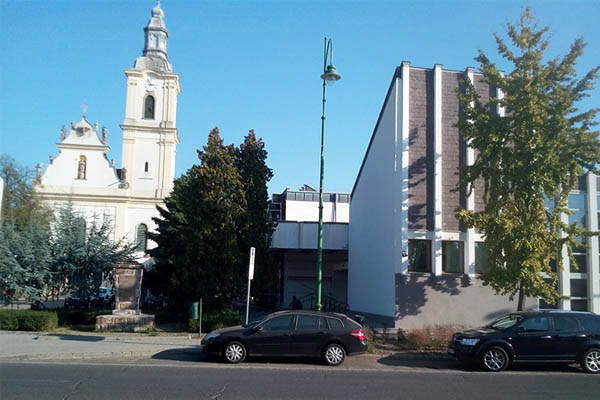 Why it is good to belong here
"I was captured and captivated by the massage therapies we offer since they make us follow the path of active love. I have been a member of the Health Team for 2 years. I wish to pass on as much as I can from the gifts I have received. Light becomes a bliss only for those who pass them on to others, as Béla Hamvas wrote, and I find every word of it true! There is only one word that accompanies me: mercy."  /Edit, 73/
"Helping people is a wonderful thing, belonging to a circle like this is a glorious feeling. Among many other things, I volunteer for taking reception responsibilities at the Budapest Center." /Ani, 62/
"In the beginning, the team helped me a lot with accepting and understanding the past. I found my partner at the time. Since then, my life has taken a good direction. My main responsibilities lie with massage therapies; this is how I can really help." /Joli, 62/
"I have been part of this community for 10 years now, and I believe it says everything… I love the people, and I love helping them. As the financial officer, I actively participate in the group's life." /Marcsi, 64/
"A few years ago, my partner, Tamás, introduced me the Circle and has been an example also himself of how I can live a more complete and merrier life. I feel inspired by the healing love in the group. I hope the world becomes more loving through our work!" /Ágnes, 43/
"Since I became a member of the community, I have found my place. I feel I have come home. I have met many good people and gained a lot of friendships. I can only say thanks for what I have received, and I still do believe that there are no coincidences." /Marianna, 57 /
"In an unusual way, this time, I would like to express in words what the team means for me: love; collaboration; trust; we can rely on each other; I can help people and my fellows; we are a good team." /Kati, 69/
I sense it this way: every member of our circle is a lantern. There are different kinds of lanterns, and this is good because people who turn to us also show a variety." /Katica, 39/
HELP, SO THAT YOU CAN BE HELPED BY US!
As a non-profit Foundation we need to create and maintain our financial background to be able to continue our free treatments, to run our self-knowledge courses, and actively promote our cultural and tradition preserving activities.
We welcome all support, donations whether from individuals or companies. In Hungary we welcome respectively the 1% of the personal income tax if you wish to offer it to us!
THANK YOU IF YOU OFFER THE 1% OF YOUR PERSONAL INCOME TAX FOR US. FOR YOU IT IS JUST A FEW MINUTES BUT FOR US IT MEANS A LOT!