Tibor Putnoki (1946 – 2020)
You will live in our hearts forever

!
Tibor Putnoki was born in Mándok, Hungary in 1946. In 1994, he was hospitalized due to an illness and had a near-death experience that lasted for 9 minutes, such an experience that radically changed not only his life but the lives of thousands of people around the world. His earthly mission ended on 2 December 2020; Tibor went home to his Creator. His spirit and love live on in our hearts and actions.
9 Minutes – My path to the Light

A story of a near-death experience
We would be surprised if we knew exactly how many people in the world have had a near-death experience. Most people do not dare or cannot talk about it, but still more and more reports, descriptions and even scientific research is published on this topic.
Tibor had a near-death experience on his name day, 14 April 1994. There was a 9-minute gap between his heart's stopping and restarting. 
He faced three questions in the state of clinical deatht:
Did you have a real life before your death?
Did you live a life worthy of a human being?
Could you look into the eyes of your fellows with clear eyes, a pure heart and head held high?
"People should be told not to live like this, not to act like this!"
 The near-death experience he had passed through, turned him towards people, human existence and love. The name Light of Love originated from this too. By the time More than a year had passed after the clinical death experience before Tibor's physical body was fully recovered and his new life began. Together with his wife, Piroska, they embarked on what he called "the path of active love". They met more and more people; many of them became Tibor's followers. The precursor of our organization came into existence in 1995, then the Light of Love Foundation was formed in 1997.  The latter was given the Public Benefit status in 2000. Tibor was not only the founder but an everyday worker in our organization and community. His areas of activity and experience included the following: a near-death experience, thanatology, an experiential philosophy, book and document writing, lecturing and being a member of IANDS*, health-preservation, promoting self-discovery and preserving traditional heritage .  
*In 2015 Tibor became a member of the American association for the study of near-death experiences, IANDS (International Association of Near-Death Studies). In September 2015, Tibor gave a lecture at the annual conference of the US organisation in San Antonio, Texas. Following his talk, IANDS invited the Light of Love Public Benefit Foundation to join them as a co-organization .
"Love and live according to your conscience!"
Tibor set the seemingly simplest target for himself and yet perhaps also the most difficult one: to show that God created humans to live in love, to be happy and to live accordingly, through his example. It doesn't require any special knowledge or qualification: love is for all of us, and we have the opportunity to experience it in every life situation – it depends only on our decisions. At the heart of his teaching there is the Human Being and humaneness. He believed that the most authentic way of experiencing love is activity, not just talking about it, but turning to people with help and translating love into action. These are the teachings that the members of our community also strive to achieve and experience .
"Life is beautiful and has a meaning: life is worth living with faith and love towards Ourselves, People and God."
A Since the beginning Tibor has shared his experiences gained during his near-death experience with thousands of people. He gave more than 1,000 lectures around the world: in Hungary, Transylvania (Romania), Upper Hungary (Slovakia), Ruthenia (Ukraine), Vojvodina (Serbia), Austria, Switzerland, Germany, Netherlands, the United Kingdom, Spain, Turkey, South Africa and the United States of America.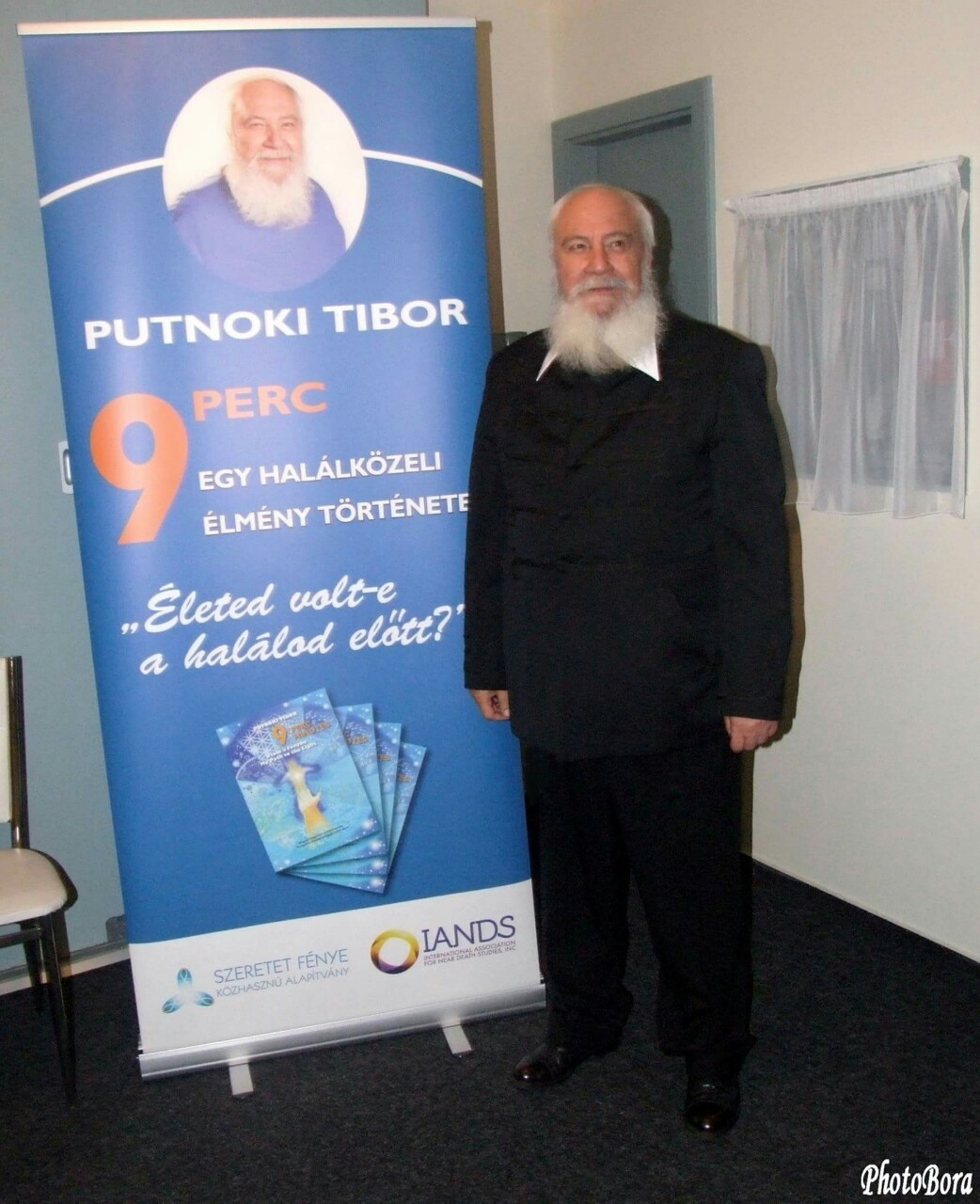 His lectures are worth a look!
We remember Tibor Putnoki…
Tamás Paulinyi, writer and poet, Director of the Free University of Synthesis
Nine minutes…
Nine minutes. Measured on an Earthy scale, it's not a great deal of time, and we hardly notice it passing, even though a lot of things are happening and can happen in the meantime. It is almost as long as the light takes to reach the Earth from the Sun, and it is enough time for an even brighter, unforgettable Light to illuminate someone's soul.
This happened to Tibor Putnoki, to whom I later became a friend, thank God, and a companion in our common endeavours, until he finally returned to the Light of the Other World.  I think our friendship has been going on ever since because there are things that are not affected by the departure. But what also happened in those nine minutes without heartbeats that made Tibor's life — and thus others' — different, was how those nine minutes often became ninety minutes, they were nine minutes that lit new lights in the lives of many.
Tibor has been over there. Not just anywhere, but where the Light resides. Outside of his body, for an unprecedentedly long time — nine minutes — he existed on the higher plane of reality, where the infinite opened up to him, and the essence of life came to life in him, in the dimension where valuable and worthless things got separated. There, Tibor was given the opportunity and responsibility, which was nothing more than to speak to people to live the earthly life assigned to them more beautifully and in with more love.
And it happened more beautifully and completely than anyone would have thought since Tibor lit lights around him with that Light. Those "Nine Minutes" became the title of 'the love campaign'. That special light still shines in the "Light of Love Foundation". I got to know Tibor and his story as part of 'the love campaign'. I was able to take part in a roundtable discussion section of his storytelling event, and in the campaign itself on occasions.
 And over and over again, I listened to the precise story of life here and beyond, not only of his life in tribulations and his shockingly otherworldly visit but of the unity that dwells in all things: yes, the Light of Love. Tibor became the messenger and prophet of this beautiful message while remaining a serene, pure-hearted Man with arms always open to embrace. I believe he is here with us now, whispering the most beautiful grace of existence to everyone with his mischievous smile.
Iván Fenyő, actor
Tibor, you can hear me, can't you? You're here and you sense my letter, don't you? I see a white beard in front of me, a Hungarian vest, the motorcycle-Hungarian kind of attire, and a shiny-buckled leather belt, and I always see those smiling, deep eyes of yours. You were important. You were an important light. You were a true heart. You gave a lot to people. I know, you might have thought that even that wasn't enough, might not be enough, and you seemed as though you were trying to redeem your debt with trying to be a better man, by giving more to people each day. Believe me, you did. You can have some rest now. You're done. I'll see you anyway, I think. Then you will guide me around, show me what things are there and we will talk about everything. Thank you for the pendant. The angel. Once you called me to the stage towards the end of your performance – when I would have slipped out of the back, because I had heard your story for the second or third time – you took your own chain, the holy angel medal, and handed it to me in front of everyone. From then on, it was around my neck for almost 3 years. I never took it off unless I was on a film-shot. When you handed it, hiding from the audience's ears, with a mischievous smile in your eyes, yet most seriously, you whispered to me: wear it because you'll need it. Well, I certainly did.
Then I also have in my head what you said after one of our joint performances. You squeezed my hand hard, you touched me, you patted me, you smiled even then, and there was a great love for me in you. My soul was crying then, I was in pain. You said they really didn't like me. You were right, I think. But you didn't even know me. And still you did. It's like I've been important to you somehow. Well, you have to know, although you must have felt that: you were very important to me in my heart, even though I didn't know you.
It's good that you exist. Because you do exist. Even now. Only in a different form. I can almost hear you saying those words.
Blessings Tibor. I wish you Miracles, Blessings and the Most Beautious things!
It was a wonderful, important life you lived. Thank you! In my name and all the many many people's you have reached, whom you have humbly served and taught with your tales and stories. Sometimes we'll talk like this when I turn to you from here – and then we'll be there anyway… I hope you'll be there among those who are waiting for me…
I promise I pass on the necklace with the angel to someone whom I feel they need it most.
Hugs, Master Tibor. A big hug. (Iván and Tibor embrace each other with their eyes closed, caressing each other's backs …)
Lajos Butsy parish priest
I came into contact with the Light of Love Foundation as a parish priest in Moson. I was pleased to experience their charity service in the old people's home in Moson, where they helped the elderly with massages and talks. I was happy to participate in the international cultural meetings, where I got a comprehensive overview of their activities. That time I met Tibor Putnoki in person. He offered me his friendship and considered me his spiritual father. It was a great help when I was on a mission in Transcarpathia, and the drum team in Aknaslatina strengthened the Hungarians in their faith and deepened their Hungarian identity. Some people stayed there because of their singing. When I returned home, I was happy to take part in the so-called "Love Campaign" both at home and in Vienna. Love saves the world.
Paul Roth expresses it so nicely: Without love, we can do nothing.
Without LOVE, Duty is discouraging,
Without LOVE, Responsibility makes you ruthless,
Without LOVE, Justice makes you tough,
Without LOVE, Kindness makes you malicious,
Without LOVE, Intelligence makes you cruel,
Without LOVE, Order breeds a narrow mind,
Without LOVE, Honour makes you arrogant,
Without LOVE, Possession makes you miserly,
Without LOVE, Faith makes you fanatic,
Without LOVE, Life is meaningless…
But to live in LOVE: Happiness and Joy abound!
I am happy to have brought this joy and happiness to the people together with Tibor Putnoki. 
Dr. János Sulyok, senior physician
The first 9 minutes together with Tibor took place in very special circumstances. Tamás Dancsok, the organizer, inventor and the engine of Ózd Open University, invited Tibor to talk there. Tibor kept thinking about the idea, asked Father Gábor and myself  to join him, and thus incorporate religion and science in the talk. The title of the event was "Does life exist after death? …and before?". The talk took place in the theatre room of the Ózd reading circle. We didn't even dare to think in our dreams that they would have had to bring in extra chairs for the number of people interested in it! Nearly 800 people listened to Tibor's 9 minutes and the conversation that came after. So much devotion, interest, and love permeated the room that it almost felt palpable.
The conversation after the lecture had led me to the decision to reach as many people as possible in the so-called "Love campaign". And so it happened. I received the privilege to be Tibor's partner at these lectures and talks many times, for which I will be forever grateful!
I learnt and felt a new aspect and detail about Tibor's story each time.
Every time we could feel incredible, moving, loving feelings flow.
Whenever we left each event, we felt that the message had reached the target audience, "love without preconditions".
I say goodbye to you with a Sándor Reményik poem: Lovasdoki János
I give my tiredness to the evening shadow,
My colours back to the rainbow,
My peace to the pure, quiet sky,
My smile to the autumn bright light.
I entrust many of my dark secrets to the wind to take
Expecting for nothing and asking for nothing.
That are chasing through thorns and bushes:
I dispel my doubts into the vortices.
So, you do not look for me after my death,
I will be nowhere – and everywhere.
Emese Eőry, traditional Chinese pysician, naturopath
I first met Tibor Putnoki and the Regélő Fehér Táltos drummer Team on Heroes' Square in 2013. Holding a huge national tricolour flag, Tibor led the band in a dignified way, and a kind of magic began to appear in my soul when the concert started. I was enchanted by the inspiring joy of "being Hungarian is a proud beauty". I felt devotion and love. The next day, the acupuncture treatments we carried out with my father, Dr. Ajándok Eőry, were especially effective. Later several guests approached me over the phone, indicating that the treatment that day had been particularly good and effective. I recognized the powerful and Hungarian soul-opening energy that radiated from the combined strength of Tibor's presence and the Regélő Fehér Táltos drummer Team. So, I wrote a letter to the drummer's thanking them for this wonderfully recharging experience. It is how my relationship started with Tibor Putnoki and the associated community filled with love, the members of the Light of Love Foundation.
Tibor reminded me of Father Pio, who was our "favourite" saint in the family. I recall my inspiring arrival at home that day: 'Balázs, I met a man like Father Pio!' I told my husband with pleasure.
Slowly, more and more details of Tibor's complex being and mission were revealed to me. Like a beautifully growing tree, the branches of the Tree of Life weighed down under the treasures.
His personality functioned as a kind of Soul Magnet: he was able to form an unbroken connection with many very quickly with his love and attention. He was strict and very kind at the same time; he saw everything but said little. Yet he gave us all the words, thoughts, important messages that have affected our whole Lives.
He saw into 'life after life' through a special near-death experience, from which he came back with his eyes seeing differently.
In 1994, Tibor experienced a near-death experience lasting 9 minutes, after which he returned to life to meet his vocation: to tell people not to live the way they lived before.
Tibor encouraged us to love ourselves and help others on the path to love. Various courses were established at the Light of Love Foundation, which are about the essence of life and existence based on Tibor's experience and the knowledge he gained after his return.
He brought a special, fine-touch massage technique, giving us the opportunity to help others for free. We were able to connect with a loving community, so we completed a course together with my husband and daughter, which was a kind of milestone in meeting the Light of Love.
I was thinking long about Tibor's experiences of his 9-minute near-death experience that had so changed many things.
The most significant messages to me were the following: He was welcomed with immeasurable love, even though he received no religious education. He watched his life story, how it should have been lived, and what it caused others to feel.  And it was not God or this Light of Love, who judged him, but it was his own conscience. Based on what he said, I feel it is important that we do not judge ourselves, but we drive our boat of life, in love day by day, already here in the earthly life.
It was an important message for me to love ourselves and often smile at each other, because Tibor also "gets a slice of cake" with it, which is a great pleasure for him.
That all knowledge is available to people, it is within us, and there is a kind of experience and knowledge that we add to this common knowledge with the experience of our current lives.
I want to emphasize the final experience of his many-many inspiring ones: returning to his human body, he asked the Divine Light for a message.  It was "Be happy!"
Is that what God expects of us; should we be happy?
How can this be done in our lives?
Along with Tibor, I felt the urge to act and I got involved in the work of the community supporting Him. I managed to organize quite a few 9-minute talks for him, which he offered selflessly, for free, giving the best of his Spirit and vitality beyond his strength.
I invited acquaintances, our patients, anyone who was interested in these talks, as we also have a lot to learn about the last great initiation of life: death or Homecoming. It is a kind of taboo subject in Western society, and, at the same time, it is an inevitable certainty.
He had always longed to return to this Unearthly Love, yet he remained strong despite his illness until the last moment, so that he would be with his earthly family: his precious wife, Piroska; daughter, grandchildren; disciples and friends as long as possible.
Tibor is a role model for me and a strong Guardian Angel, who embraces me with his love forever. Who accepts and loves me even with my mistakes. Who can inspire me, who can make me fall in love with life and walk the path of Love.
He is the one who cannot be talked about in the past tense because his sentences sparkle in my soul every day. His mischievous smile enchants me even from out there.
In 2020 he left the playing fields of the earthly board game like my Father, Ajándok. Thinking about them, I step forward with more smiles, greater devotion, even more aspiring love, as long as the grace of God allows.
Tibor, it's a special gift for me that I got to know you, that you let me closer to you, trust me and love me! Thanks for everything!
Zsolt Hover, reformed minister, writer
Zsolt Hover: Planeheart

The huge crown of the tree cast an irregular shadow on the beaten path next to the tree trunk as if it would draw a map of some mysterious country. The boy climbed the thick trunk until the green leaves completely covered him. The crown of the tree always meant security for him when he wanted to escape the noise of the orphanage. Between the old branches, in the silence of the garden, he could really cry himself out. The sycamore always listened and did not respond to his complaints with scolding or rebuke, only with a soft whisper. Most of the time, he thought he could hear even the thoughts of the tree, and he felt the protective, caring love he had never received from his mother, since he had never known her.
After a while, the residential counsellors searched through the hidden foliage of the tree when he disappeared from the orphanage without a trace. This time he did not visit his hiding place because he was hurt or fighting, but came to say goodbye. He tried to recollect everything he felt for the old plant in his mind. He told it that those who adopted him would never take its place, as nothing could replace motherly love. The chunky branches nodded softly in the spring wind, responding to the little boy's heartfelt thoughts. The child was afraid he might never see his faithful friend again, so he wanted to seal their relationship. As he climbed down to the base of the tree, he dug his junk knife with a wooden handle out of his pocket and began carving the bark with it. The first letter succeeded a little bluntly, but when he was done, he read with satisfaction the letters capturing his name: Tibor. The satisfaction did not last long because the tree no longer spoke to him; it was only silently dripping its sap around the carving, reminiscent of tears falling down a mother's face. The child stopped for a moment, waiting for the tree to whisper something to him as a goodbye, but the ancient garden only echoed the calling of the birds. The boy furrowed his eyebrows, then dabbed his eyes and went on.
He thought maybe only his imagination was playing with him the whole time when he heard the sycamore tree's voice.
Many years later, the matured child as a grown man was lying on an operating table, and his doctor was fighting for his life as he was trying to restart his heart. When the human instruments failed, the doctor took the fleshy organ in his hands and began massaging it. With a silent prayer, he rubbed the sick heart, which shook softly in his healing hands after a seemingly eternal time.
Just as rivers sometimes return to their old bed, so does one's life's journey wind back to childhood sites. Tibor was suddenly overwhelmed by old feelings as he looked at the old tree, which seemed not to have changed over the years. As he circled the trunk, he saw his ragged name among the many carvings and runes. He remembered saying goodbye, and wondered why the tree had suddenly gone silent then. Because you hurt me and caused pain. And how many times have you told me you love me like your mother? Frightened as he was, the man looked behind his back frightened but the park seemed completely deserted. A lot of strange things had happened to him since he walked on the edge of death, but that seemed the strangest thing to him. Not only did the soft whisper of the foliage sound in his ear, but he could hear the old tree clearly as if he were talking to someone. "Excuse me, I didn't want to hurt you. I'll cut out my name right away to make it disappear," he said, starting to dig deep into his pocket after his old knife, which he kept all along. The tree replied without reproach: Do not! You'd only hurt me even more.  This remains here forever like the wounds carried by a mother's heart. There were tears in the man's eyes, but the old sycamore comforted him: don't cry, you can only get reach a mother's heart if that heart knows hurt.
Cemalettin Özdemir, Leader of the Begegnungsstube Medina, Nuremberg, Director of The Orientalist Museum
A Star has Fallen from the Sky
Two stars met wonderfully. Two souls, who had known each other since the beginning of time, found each other at Kurultáj, the largest celebration of ancient traditions in Hungary, about 10 years ago. It was as if two brothers who had lost sight of each other for decades met and cried with happiness when they finally found each other again. These two souls were Tibor Putnoki and Cemalettin Özdemir. Since the encounter, they had been inseparable, connected in spirit and heart. The meetings in Hungary and Germany, as well as the trip to Turkey, strengthened their goal to stand for love, peace and a better understanding of religions. During the trip to Turkey, Tibor spoke to hundreds of Muslims, not a single eye was left dry when he said: 'May the Creator resurrect me together with you'.
When he heard the muezzin's call to prayer from the mosque, he felt as if he was in heaven. At one of our meetings in Hungary, he gave me a farewell gift, which was the most valuable thing in the world for him. It was a miniature Quran. I told him to keep it. He replied: 'I already have the book in my heart.' What religion was Tibor? For me, he was a brother of faith and of the heart.
This shining star has now fallen from the earthly sky and has begun its journey to our Creator, into the infinite dimension.
Dear Tibor, your body may have been buried but your soul, your love will always have a place in our hearts. This love and longing for each other cannot be buried.
He who seeks Tibor's tomb should look into the hearts of the people who love him.
Caption in the background from the Quran: "The believers are brothers, so reconcile between your brothers, and remain conscious of God, so that you may receive mercy." (Quran, Surah 49, Ayah 10)
Robert and Suzanne Mays, IANDS, International Association for Near Death Studies – international organization dedicated to study Near Death Experiences, Chapel Hill, North Carolina,USA
A Tribute to Tibor Putnoki
We first met Tibor Putnoki at the 2015 IANDS Conference in San Antonio, Texas, after which Tibor gave us a copy of his book 9 Minutes: My Path to the Light. We have found his book to be the most profound and evidential near-death experience (NDE) account we have ever read.
During his 1994 NDE, in his "life review", Tibor saw how poorly he had behaved and treated others. He said to himself, "It should be told to people, 'Look this is how I lived, how I acted, don't you do the same, don't live like me!'" Tibor's intention – his decision to tell others – ultimately propelled him back to earthly life. As he rejoined his lifeless body, Tibor desperately asked, 'What is my work!?!' The Being of Light responded, again and again, 67 'Be happy! Be happy!' As Tibor's consciousness returned to his body, the Light's voice gradually faded, 'The New Commandment … The New Commandment ….'
The New Commandment is the commandment Christ gave to his disciples, "to Love one another as I have Loved you." Tibor was completely transformed by his NDE and it led him to follow the New Commandment and to show others how to as well. His work through the Light of Love Foundation has touched many thousands of people in Hungary, and further in many other countries all over the world. The Foundation teaches ordinary people to treat everyone one encounters with Loving kindness, to serve others selflessly, to give encouragement to those who need it, and to develop their talents and abilities.
Tibor's life and work are the epitome of following the New Commandment. Near-death experiencers know that when someone shows kindness to another, the angels rejoice!
Tibor's greatest gift to the world is the Light of Love Foundation because it provides hope that societies and nations can be transformed through Loving kindness and selfless service to others. The work of the Foundation should continue and be expanded.
Tibor's greatest gift to humanity is his book because his NDE provides all who read it the assurance that there is no death and that our life on Earth is our opportunity to grow in Love and to learn Wisdom. Tibor's book should be published and disseminated widely and in many languages. Tibor's greatest gift to science is the ability to verify his NDE because it provides solid, irrefutable evidence that the true nature of human beings is our non-material spiritual essence. This verification work should be done as soon as possible and we are eager to take up this task.
Tibor's greatest gift to all of us who knew him is his living demonstration of Loving kindness and selfless service to others because his presence warmed our hearts and lifted our spirits. Tibor's example should be cherished in our hearts and followed in our daily lives as we interact with others.
There is no death. Tibor is with us always. We will all meet again someday.
Kurt Hörtenhuber, writer, Austria
We are really grateful dear Tibor that we could get to know each other through Zoltán. Your story heard at a presentation in Wien touched us deeply. We could feel love in all of your words. We were really happy that you have accepted our invitation to Ried im Innkreis where you really filled the room with love, and encouraged 200 people with your lecture, together with Ildó. Those were amazing days, with lots of valuable conversations. I am happy that you got to know our ambassador Oups and that I was able to tell about it a bit during our meeting at Mosonmagyaróvár. I am really sorry, that we couldn't manage to organise further presentation with you in my hometown in order to bring your message and love to even more people.
Dear Tibor, we miss you, but it is a comfort to know that you are in your final home. Where there is no suffering, pain or separation – just love and peace. Thank you for all. Please send us, people, lots of light from your home. We need lots of energy full of light and love. See you again!
Tamás Dancsok, Managing Director of Piramis Ltd., "Prima" prize receiver, the founder of the Ózd Free University and a simple friend
I met Tibor when the idea was born to invite him as a lecturer to the Ózd Free University, which I have been organizing for many years. Dr. János Sulyok, my friend from Ózd had the idea to involve Tibor; he brought us together, so I visited Tibor in his home in Királd several times before the lecture. I acknowledged with a kind of shock at the time that such a man lived near me who was "widely travelled" in every sense, experienced and knowledgeable. He was very direct, interested and open to any new ideas. The lecture was truly revolutionary in Ózd. If I may put it this way, I put on stage a priest, a doctor and a man having experienced the state of clinical death at the same time who had an animated conversation to the great delight of the audience. In a wonderful building of Ózd, in the theatre, 800 people were watching the discussion… it was an important milestone in my life! From then on, we became friends with Tibor; we developed great plans, we were together at the Mongolian and Kazakh embassies and, we wanted to organize an international gathering for thousands of people in Ózd. But, unfortunately, the virus intervened! I liked him a lot. I only received from him, and I never saw a spark of human malice, envy, or any negative traits in him. He created something big, 31 founded an intense community, and probably was considered by some to be a "specimen or a swindler". Yet he seriously believed in what he did. Making people's lives better was his philosophy of life, and the love of Hungarians should be a role model for generations to come! Thank you all, my friend, Tibi. I hope we will meet again!
Beat Steiner, school director, Switzerland
Tibor left us. He has begun his second journey, the final one this time. May peace, light and love be with him!
What will now happen with us? How can we keep on without him? Him, who was so important, who has done so much for us all, has given meaning to so many people's lives, could bring so much understanding and could create so much acting love in Hungary and in other countries as well, for thousands of people.
How can we go on? Indeed, it is obvious and evident. Let's follow his example. Let's live our lives as we have heard from Tibor (and silently in our hearts, too): 'Let's bring pure, acting light into our life, let's make pure and acting love flow into our environment and the World – there is no more beautiful, noble and important thing.' This is what I have learned from Tibor and from the members of the community of the Light of Love.
I have heard from Tibor for the first time when I was on holiday in Spain, in 2015. I have accidently got to know Anita Csurilla and Ildó Szabó, who became my preparers. After two weekends of preparation, I have managed to join to the Foundation with the help of Piroska, Péter Burghardt, Norbert Farkas, Anita and Ildó. It was a great time with great people.
Next spring, I was invited to the 21st anniversary gathering of the Light of Love Foundation in Budapest, where I could meet Tibor personally. What a joy it was getting to know Tibor and so many others from the community! I have never met a community with such remarkable love that could be felt all around. It was simply wonderful.
Then in 2017, I had the chance to organize a series of presentations for Tibor. That week was a great present for me as well. I could experience Tibor, his deep love and his "proximity to God" close-up. I could experience the kindness of Piroska, Ildó and Gábor, and their practice to incorporate "light and love" in their everyday life. In 2017, a bridge was built between Hungary and Switzerland, with pillars of love.
During Tibor's life, many bridges were built with love and light, between so many people coming from different points of the world, filled with his message.
Now after his death, further bridges are to be built, from person to person, from country to country, around the world, and in the place where the great soul of Tibor found his final rest.
THANK YOU, THANK YOU, THANK YOU to Tibor and to all the members of the community of the Light of Love! 
Andrea Hoffer, one of the organizers of the "9 minutes lectures" and the Love campaigns
Tibor, in the Mirror of the 9 Minutes Lectures

The miracle of Tibor's lectures is, that from his story, from his presence we can gain power and recharge ourselves again and again. Led by his words, we can have a rest and also submerge a bit in the endless Light and Love, the one that takes your hand, gently embraces you and says: 'There is no problem, all can be redeemed.' It's an unbelievable blessing and mercy that we had the chance to know him, that we could be his fellows in his aim to tell the most people possible: 'Love and live following your conscience!' Wherever he went in the world – in Hungary or abroad – he touched the hearts of the people, independently of age, gender and nationality. He set an example, gave faith, power, courage, and hope to the disheartened. Here are some thoughts from the guestbook of the 9 Minutes lectures:
"It was an experience meeting people out of whom Light is spreading. While Andi was singing I felt like angels are scattering the light of love in the room. Tibor's fantastic lecture was crowned by the honest, deeply human confession, which made it authentic. His love for human beings, his acceptance of God (his faith and knowledge) are an example for us, which we must follow. This afternoon was blessed."
Rozália
"Dear Tibor! Your fascinating, surprising lecture deeply touched me. Thank you for letting me be here, and that I could give you two of my poems as a gift. This experience changed our way of thinking, it was like the pure spring for the thirsty. Thank you from the bottom of my heart."
Mária
"Dear Tibor! Thank you for letting me meet you. Your life is difficult, full of trials, but you overcame all the obstacles! What happened is a miracle and you are a role model for me! Our task is to make our life better without a near death experience! You opened our eyes to see this! Thank you. Lots of love: Erika"
"The 'eternal light' is what takes us in right on the Earth and later over the boundaries. I could see this 'light' in your eyes."
István
"Words that bring to life many experiences, events and miracles on the screen of the soul: they are just flowing and flowing and purifying people. The first word was the Word of Creation on God's lips. Then came the word that healed, showed the way and loved. Under the power of words people who were willing to listen to them were always transformed. Tonight we could hear the message, the echo of the word that was born in the light to bring light in the heart and soul of many."
Péter
"We thank Tibor Putnoki that he did his quest with unbroken perseverance. I wish from my heart that he opens the eyes and hearts of as many of our fellow humans as possible still in their earthly existence."
Zsuzsa
Tibor the Human Being, showed us the true path, the path of Acting Love. Let's follow the path to become worthy of this inestimable heritage that he has left for us! He went home, but his smile, words and gestures stayed with us forever. His Love is glowing and pulsing in you and in me, more alive than ever.
Viktória Hamar, granddaughter
You've brought light into dark night
And wisdom to humankind
You've taught us how to love
To accept, not to judge.
You left silence behind
But stayed in our hearts
You gave plenty but
You now look back on us from above.
We can't embrace you anymore
You moved into the clouds
In our dreams you still return
And tell us what you'd like.
I look at the heaven high
And see you blazing in the light
I look up and say again
How much I love you.
What participants say about
Tibor's lectures?