Love and live according to your conscience !
Tibor Putnoki was born in Mándok, Hungary in 1946. In 1994 he was hospitalized due to an illness and had a near-death experience, which lasted for 9 minutes. This experience, not only changed his view of his earlier life completely, but also inspired the rest of his life:
"People should be told, not to live and act I did!"
To transform his ideas into reality, he established the Light of Love Foundation, of which he not only became the founder but also the ordinary worker at the same time.
His areas of practice: thanatology, experiential philosophy, book and document writing, near-death experiencer, IANDS* events lecturer, health promotion, self-knowledge and preserving traditional heritage.
Man and humanity is at the centre of his teachings.
He believes that the most authentic way to live love is to be active in it, by not just talking, but helping and turning help into physical action.
* IANDS = International Association For Near-Death Studies
Since the beginning Tibor has shared his near-death experience with thousands of people. He has given more than a thousand talks around the world – i.e. Mainland Hungary, Transylvania, Upper Hungary (Slovakia), Ruthenia (Ukraine), Vojvodina (Serbia), Austria, Switzerland, Germany, Netherlands, United Kingdom, Spain, Turkey, South Africa, United States of America etc.
What participants say about
Tibor's lectures?
Book Review
We warmly recommend the books published by our foundation. Please contact alapitvany@live.com for further information.
9 Minutes – My Path to the Light
We would be surprised if we knew what a large number of people live through near death experience globally. However, most of them don't dare or are not able to talk about it, more and more reports, publications or just scientific research is published on this topic. This book is yet different from the ones published up until now: Tibor Putnoki lived through this experience more than twenty years ago. It not only radically changed his life, but also gave him a mission for the rest of his life: "People should be notified not to live and act as I did!" Since that time he walked the path of active love and established our Foundation, which is set for the simplest, yet perhaps the most difficult task: via his own example to show people that man was created to live in love, to be happy; and man is capable of living accordingly. No special knowledge or qualification is needed: Love is all ours, we have the opportunity to experience it at any life stage – it is only up to our decision.
The book is available in Hungarian-English, German-English and English-Spanish bilingual editions.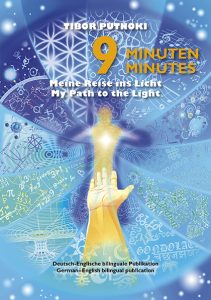 Dado and the Grey Cloak
Fantastic time travel from the present to the Bükk hills a couple of thousands years back in time. With the help of the gray cloak, we can closely observe the everyday life of prehistoric men and their environment: who won the battle of the Saber-tooth tiger and the bear? What is red-flower? Who were aware of the prehistoric secrets?
It is recommended from age 9 and up, but adults can also find secrets in it!
"Now we are not seen. We don't exist for our environment. We can see and hear everything, moreover, we can travel under the grey cloak in a way that we don't even have to make a physical step. We can closely admire prehistoric people in the Bükk hill, we can participate in their lives. But we are not allowed to intervene into the events, as we would change our history. You can see and hear everything, but you cannot help anyone. Would you like to do it this way?" /Currently only available in Hungarian/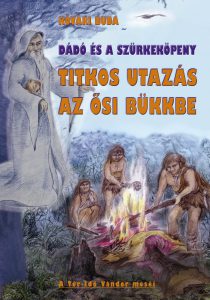 Wanderer of Space and Time (fantasy novel)
 "The Master looked at his Disciple, but he did not say anything. Silence became deeper. It was disturbed neither by a bird nor by an insect, as if the whole world was waiting together with the Disciple13.
In this book there is a story – continued the Master. A story of a man who – taking on his destiny –  became open to become one with a Being. This opening, so to speak, getting opened, is not an ordinary simple event, but a series of torments and situations that test people. The name of the process in which Heaven and Earth meet and man finds Himself is: Opening. Get ready for a special journey. You will encounter strange things similar to your dreams. Do not question what was heard, but accept what happened, and let it affect you. Are you ready to experience a new door opened in front of you? 
I warn you, if you enter, nothing would be the same as before. The whole world, including Your world would change forever. Everything would need to be re-evaluated. Do you want it?" 
/Currently only available in Hungarian/