The Health Team introduces itself
The Health Team introduces itself
The primary purpose of our Public Benefit Foundation is to experience active love, in other words adapting love to practical supporting activities.
Our founder, Tibor Putnoki placed plenty of tools in our hands, including those that are based on health preservation.  In the beginning he was the only one who gave massages, but as more and more people came to him it soon became necessary for as many people as possible to learn the massage technique. 
The affectionate touch enchanted people and more and more people also longed to learn how to give the massage. The growing demand justified the development of techniques that are easy to master, non-intrusive and can be applied to and by anyone. This is how our current refreshing, relaxing and harmonizing techniques and our posture-improving gymnastics were developed.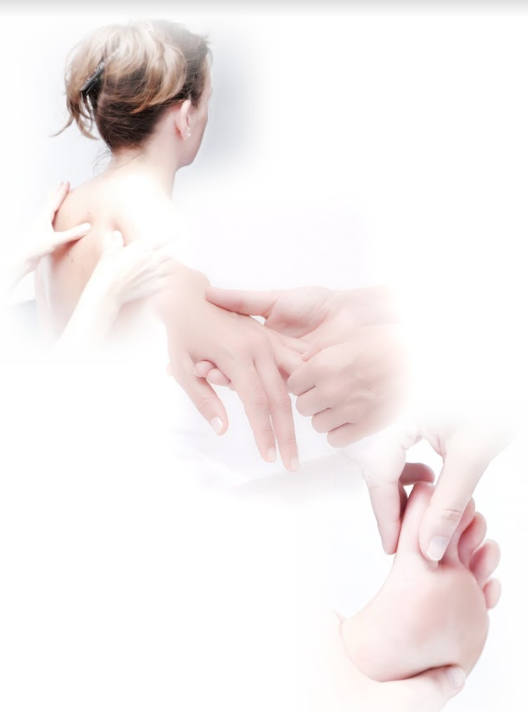 Our Health Team began its activity in 2001, and started out with seven people. Since then, this team expanded, and with increasing demand more and more people joined and continue to do so to this day. 
The members of the group are responsible for, among other things, organizing and holding the back, hand and foot massage courses. and gymnastics trainer courses, for compiling course materials, for organizing health days, for the giving of regular treatments and for maintaining their pureness and uniformity – all over the world. We also consider continuous self- and group development important.
Piroska Putnokiné /Leader of the Health Team/
Piroska P.:
Personally, I am fond of touching human hearts and through hearts, in turn, human souls. I really would like to be able to reach as many people as possible, as we do not heal but treat/apply health-preserving techniques that are equally effective for the body and the soul.
I read somewhere that touch is a positive stress which dilates the heart's own vessels and thus improves blood circulation as well.  There is a great need for our work because a lot of people live in deprivation either at the level of the soul or at the physical level and, if only for a few minutes we can still provide them relief, peace and love.
I am grateful to my destiny for being able to experience all this. I am proud of my team which is made up of great people who do a responsible job, without regretting their free time, who stand as proof of this almost every day across the country and now beyond the borders. There are a lot of tasks and this requires lots and lots of helping hands, as well as appreciative and intuitive love. The group is open and we welcome those helpers who would like to walk this path of active love.
Zsófi H.: 
I remember that we did not give massages in the beginning, we just gave energy treatments and had conversations with those who were interested, but in preference we also left it to Piroska and Tibor saying: they can definitely do it better. Certain phases of our exercise were already ready in Jászberény.
I will never forget that when we had been treating an uncle for a couple of weeks, his wife came to complain: "What had we done with her husband because she has not been able to quarrel with him ever since he came to us, he became so good natured." Of course, it was not all so easy, we had to solve many things besides work, private life but it was a nice task. 
I can say that I am very proud of the team because they are wonderful people one by one who acted to make life more beautiful day by day. Currently I support the group from Australia. Thank you for letting me be with you!
Ági K.:
The fact that I treat began with a sentence for someone else:  "The one who gives, gets more in return." At that time, I went on dialysis three times a week for four hours in Eger because my kidneys weren't working. The treatment took place at one of our fellow's flat and I went there to function as a 'door-opener' in order to help Tibor and the others do the treatments calmly.  They immediately 'employed' me.  It was hard, my hand and my lower back hurt but I was doing it. 
I became a member of the Health Team forming at that time. I didn't even understand why exactly me. The members of the group were related to health care or alternative therapies somehow. I felt like I was standing on the 'other' side of those who were 'enjoying' the blessed activity of health care. I had a hard time for quite a while experiencing this situation, but later when there were more of us, I was no longer the only 'different' one. What is more, I already gave smaller lectures at the courses. 
I remember a health day when I looked at the people treating others and I was pleased to see that there were many whom I helped to become 'a helper'. It made me feel very good. At the same time, I looked at them with a sense of responsibility for what we show.
Our team is more and more united and the members pay more and more attention to each other.  Whoever joins us chooses fellows in addition to the task. When I got a new kidney, I experienced all this attention, care and love.  I am grateful and thankful for it!
Miklós E.:
From the beginning – from 2001 – I have been a member of the Health Team. The seven of us who started it, considered it to be a 'sacred' mission and sparing no trouble we developed our anatomical knowledge, held courses and organized our participations at various health days and we went there ourselves. For me, the highlight was when there were exactly 20 learners at the first back massage course in Baja and we, five out of the seven who travelled there, were able to pay attention to everybody during the practices. In those days courses and also health days were frequent, to which we received invitations successively.
We really put all our energy into this 'work' that we experienced as a pleasant, uplifting pastime not a hardship. In the meantime, our team has expanded and there are even more of us who are working for 'this sacred issue'. I was also pleased to be able to participate in editing our publications (back, hand and foot massage materials) and more recently in holding our courses in English through which we can now involve our fellows from abroad in the group of people giving massage.
Viola V.:
When the Foundation opened a centre in Budapest, I was lucky enough to receive massages and later to take the relaxation course. I watched the conscientious and devoted activities of the contemporary Health Team members with great respect. Having a technological job, it was hard for me to imagine myself in this role but the will to help was stronger in me. As I am not a 'woman of words' I got the feeling of how much positive feeling can be conveyed by touch.
Since then, I have been a member of the Health Team – exactly from 2005 – I feel like I have found my place. I get a lot of love, appreciation and support from Piroska and from the others. I have deep experiences in relation to the massage that fills me with gratitude. It is so good that the team is 'well-oiled' and the unity is perceptible. It is a special experience to belong here.
Szilvi M.:
I have been a member of the Health Team since 2006. In the past a 'out-of-body' experience during a foot massage brought me closer to the Foundation and this also determines my affiliation. In our Foundation the active love towards people appears in several forms, for me most expressively during our massages. Either it is a back, foot or hand massage, all of them help the whole human being with reinstating the Health of the human organization. The body, the soul and the spirit can equally be touched by the body, the soul and the spirit of another being having the opportunity for initiating a positive change. During the massage guest and me disappear, the intimacy and special relation of touch acquires unconditional confidence on the part of the treated person and unconditional humility on the part of the treating person.
I think someone will join the Health Team if they can or would like to pass on love to their fellow beings with massage, without words. In turn, it involves responsibility to touch the body of another human being. It is not irrelevant when, what and how we grab or press something, etc. Certain anatomical knowledge is required to avoid causing accidental harm. My job is to pass on anatomical knowledge to my fellows who have no basic health education. It is important both in the case of the massage, as well as in the theoretical lectures given during the massage courses whether it is delivered in Hungarian or in English.
In order to be able to talk about the structure and functioning of the human body requires a lot of knowledge on the part of the Health Team member. And this is only that part of our massage which includes the body. Beyond that, there are the other peculiarities of the way we turn towards the guests spiritually and touch them. To experience it on each occasion is the miracle itself.
Péter B.:
It is often said that a person's destiny is written in advance, well, mine related to the love of massage was probably sealed with the maternal caress and touch. After that, I only needed one or two beacons to find my way or place within our community. Like a sponge I absorbed the emotional, uplifting, sometimes deeply moving experiences after the massage exam. It is an honour to touch, to treat another human fellow being with the Light of Love,
I am convinced that we cannot comprehend what is happening in such cases. Trust, safety, togetherness… I could list on and on how much both the treated and treating people receive. In the light of the above it is perhaps not surprising, as one of Piroska Putnoki's deputies, (among others),
I organize and coordinate health days and treatments whether they are in our country or anywhere in the world. I try to manage issues of 'where, when, with whom' mainly in an administrative way at the moment, but getting closer to my real dream day by day. My dream is of being able to worship my passion on a daily basis with more and more companions from all over the world. Passion, or maybe my destiny? Who knows…
Andi Sz. – Szati
I have been a member of the team since 2005. Everyone invests into this work of the massage as much as they can contribute with it to be whole. In addition to guarding the pureness of the treatment which is our fundamental task, I can help the work in the community of 'active love' by translating our massage materials into English and coordinating our cultural movements (within the Health Team). I am evolving with the group but everything can be done better and better. Thank you!
Angela Y.:
As a representative of the Light of love in the UK, my aim is to introduce the Light of Love to as many people as possible and encourage as many of our fellows as possible to practice our health-promoting treatments. I am very grateful that there exists an active and committed team in Hungary that sets an example and supports our work.
Although I live mainly in Wales and therefore I have little direct contact with the Health Team's activities in Hungary, I am pleased to experience their interest and support here in the UK.  And it is always a pleasure 'to come home' and feel the warm welcome and benevolence of the Health Team when I am in Hungary. Thank you!
Nelli V.:
I have been giving massages at the Foundation since 2002, that is what defined my life. I joined the Health Team in 2008. I felt like my fellows really loved me. They told me it as well. It also means a lot to me today. I am grateful for the team, they convinced me that I am lovable. I learned to work in a team, to collaborate and that there is a need for me. It makes me happy if I treat or I just talk to someone.
I feel like I became a different person with the help of Piroska and my colleagues. I am grateful for every occasion when I can give a treatment.
Krisztián L.:
I have been a member of the Foundation since 2003. I thought, if I wanted to belong here I "have to" do the massages. During and after the massage course I kept the secret that because of an illness called Marfan syndrome my hands are not like that of the others – they often hurt and they are weaker. My longer fingers do bend well (loose joints) but they are still not strong.
I became a member of the Health Team only in 2012 and since then I am there in the centre twice a week in the afternoon and I give massages.  Nowadays, the guests also like to come to me. I belong to the Health group in the big Foundation which is a smaller one but strong and more familiar. The cardiologist when examines me and finds me in a good condition just asks: – What do you do?  And I simply answer: – I give massages.
Ági I.:
It is my pleasure to belong to this group. There is a lot that can be learned here. I have not dealt with anatomy before. I took all three massage courses; it feels good to be able to ask: – What kind of massage would you like to ask for? I have been a Health Team member for more than ten years; we are forged together pretty well. I like to be here.
Bea P.:
I wanted to help people, and one way to do it is to touch them. And when we touch them, in the process we ourselves are healed.
Marika F.:
Speech is not my strength; I chose active love. To do for others, for myself, to preserve and protect the pureness of the treatment.
Irénke Cs.:
Before I got to know the Foundation, I was longing for being able to touch people with a gentle massage. Here in the Health Team this dream of mine came true. So the joy pervades me every time when I can touch somebody with our treatment.
Ildikó D.:
I am a member of such a team where I can develop, I can do for myself and for others. Piroska is a leader of the kind who helps her team as a 'mother hen'. She does not ask for anything she would not do herself.
Zsuzsika H.:
It is responsibility, setting an example as well as it is an honour. We are the guardians of the pureness of the treatment, so we must become examples. We must practice the acquired technique faithfully. With our presence to represent worthily the issue of love. Helping people, serving active love has become a profession for me over the years.
Kitti M.:
I found another family here in the Health Team where as an instrument of active love I can joyfully give to people.
Viki R.:
I found a kind of security in the Health Team that influences my entire life. I received one of the most important values, health, support and acceptance by my team members.
Edit É.:
I have got a second family!